Porch Additions In Tallahassee, FL
PORCH ADDITIONS IN THE TALLAHASSEE AREA
A custom porch addition for your Tallahassee home might just be the perfect opportunity to create the outdoor living space you've always wanted. Porch additions provide a myriad of benefits to your home and can essentially be anything you want them to be, such as a covered porch, a screened-in porch, or an open porch with a beautiful wooden porch swing and lots of potted flowers.
Looking for a new place for family and friends to gather? You can have it! Want a personal retreat to sip coffee and convalesce after a long day? A custom-built porch can be that, too. Even as just a bit of eye candy, the perfect porch can offer you so, so much. Bring your front porch ideas to the custom home building team at Vanguard North and let our contractors transform your gorgeous ideas into a gorgeous reality! We carry more than 35 years of home remodeling and design experience, and with the help of our general contractor and his team, you're sure to love the result!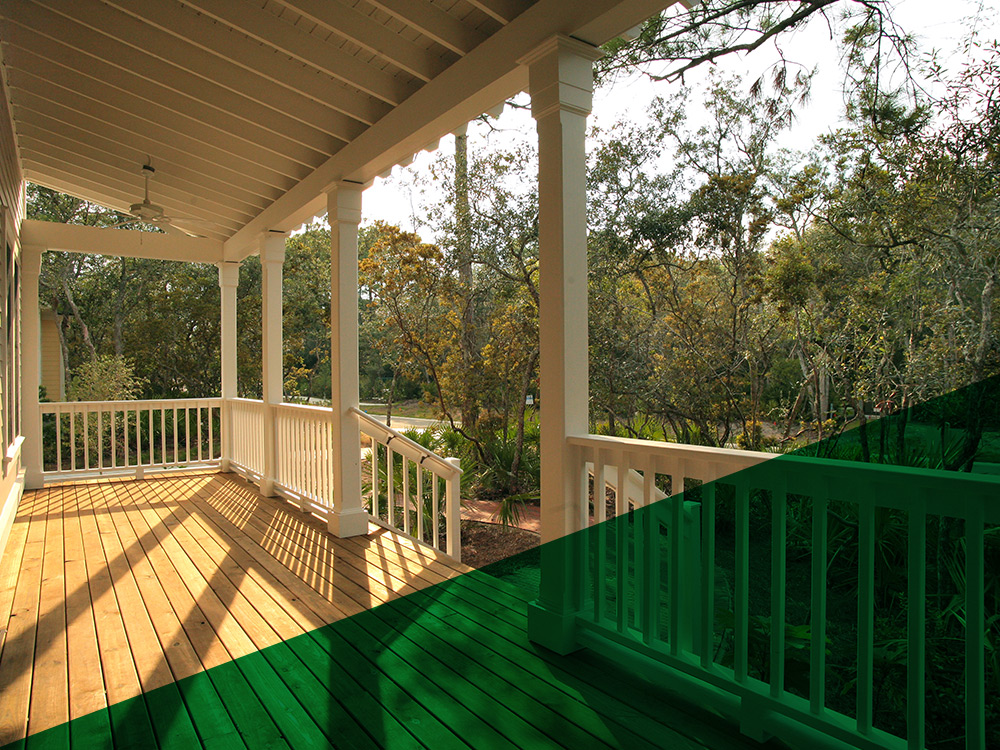 CUSTOM PORCH DESIGN & INSTALLATION
When you work with Vanguard North, our number one priority is to bring you a high-quality, superior home addition or remodel that meets all of your specific needs. Bring us your covered, open, or screened-in porch ideas, and we'll get to work on deciding which custom porch style is best for you! Building you the perfect addition to your home is our goal, and we aim to replicate your porch addition ideas exactly. Our custom home addition process includes:
The initial meeting. Part of what makes Vanguard North the preferred custom home builder and remodeling company in Tallahassee is that we always start by meeting in-person with our clients. We want to get a feel for your wants and needs in order to create a blueprint that exactly meets your dream porch addition. At this point, we'll define your space and figure out exactly what you want your new porch to accomplish.
Design. Our seasoned home design team will go to work, creating a 2-D representation of your wants and needs for your covered, open, or screened-in porch. Once we feel that everything is in order and we feel that your goals are fully realized, we can move on to the porch construction phase.
Construction. After a conference with the homeowners where we finalize decisions, our general contractor and his master craftsmen go to work building the custom porch you've always wanted. We'll be hard at work with material deliveries, construction, and the porch installation process. But don't worry, we keep our work area clean and organized so as not to disrupt your daily life while we build your dream home addition.
Clean up. It's time to enjoy your gorgeous new porch, and we'll leave it pristine in the wake of our efforts. We clean up every aspect of our job, leaving you with a superior porch installation that's ready to receive guests and family alike!
THE BENEFITS OF A PORCH ADDITION IN TALLAHASSEE
A porch is more than just a simple home addition. It provides some unique benefits to your living space as well. A porch will:
Add defined space. Space in any home is a commodity, and how you use it is important. A custom porch addition transforms your outdoor space into something more readily usable by homeowners, whether for personal use, parties, or nice greetings at the front door.
Increase home value. A custom porch addition adds a lot of home value. Whether you're looking to sell or plan on keeping the home, upping the value is always a plus, and one that comes easy when you can create something as timeless and beautiful as a unique porch that is made just for you.
Improve curb appeal. Your Tallahassee home is gorgeous — there's no doubt about that. Adding an open, screened-in, or enclosed porch is just the figurative cherry on top, adding your unique personality and flair to the exterior, as well as the interior of your home.
INVEST IN A CUSTOM PORCH ADDITION WITH VANGUARD NORTH
Addressing all of your home addition needs is our number-one goal. Our team is wholly dedicated to providing you with high-quality and memorable contracting services, and to us, nothing is more important than your satisfaction! Curious about what our past clients have to say about Vanguard North? Check out our testimonials!
Ready to get started building the custom porch addition you've always wanted? Contact our general contractor today!